Macworld magazine has reviewed the Olympus OM-D EM-5. Their rating for what it's worth has been of 4.5 mice out of 5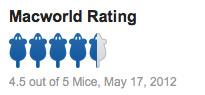 .
They like it's retro looks continuing lineage of the original OM line from film cameras. They have tested the Olympus OM-D EM-5 with both 12-50mm F3.5-6.3 kit zoom lens and the 14-42mm F3.5-5.6 kit lens and their conclusion is for buyers to purchase the 12-50mm kit as it is weather sealed, has a wider focal length, comes with power and manual zoom and has a good macro mode. If purchased with the Olympus OM-D EM-5 the lens cost $300 USD extra (when compared to the body only version) and if separately they sell for $500 USD so definitely there are savings here.
They like the way camera powers up as it does not take long and is almost instantaneous  and its fast focus. The biggest advantage of the Olympus OM-D EM-5 compared to other compact system cameras is the five axis stabilization that allows about a two stop advantage compared to a camera without image stabilization. However the five axis stabilization only works with Micro Four Thirds lens that have an electronic mount.
They also like the fact the Olympus OM-D EM-5 has a dedicated slot for the SD card not requiring to open slot for battery for the exchange. This can be quite useful for professional photographers as it allows an easier access to replace the SD cards once full.
What they don't like on the Olympus OM-D EM-5 is the humming sound of the image stabilization system that is only audible on a very quite environment and you pay close attention to it as otherwise will not get noticeable.
The fact camera is small makes the buttons of camera to be also tiny and hard to use if you have big fingers requiring some time to get used to.
Summary of their review:
Pros
Outstanding image quality
Highly customizable feature set
Compact design
Wide choice of accessories and lenses
Weather resistant body
Art Filters add fun factor
Good macro mode on 12-50mm zoom
Fast autofocus and burst mode
Cons
Menu system can be daunting
No built-in mic adapter
Small buttons can be difficult for large fingers
Soft humming noise when powered up